Turmeric
Turmeric is an ancient spice, a native of South East Asia, used from antiquity as a dye and a condiment. For hundreds of years, people around the world have linked turmeric to healing properties and cosmetic benefits. The bright, yellow-orange spice is related to the ginger root family. It is available as a ground spice or in supplements and other beauty and dermatology products.
Turmeric gets its health benefits primarily because of curcumin, a bioactive component present in the turmeric root. Curcumin has anti-inflammatory and antioxidant properties. In India, our ancestors have been using turmeric for various skin problems and issues for centuries.
In this particular blog post, I only want to discuss the skin benefits of turmeric and some DIY face masks using this magical spice.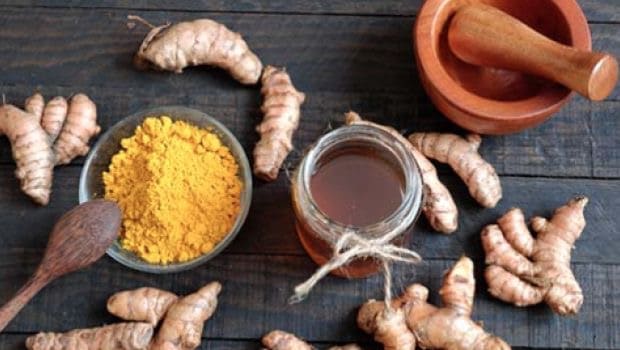 SKIN BENEFITS:-
It contains properties that contribute to a natural glow
As stated earlier, turmeric contains antioxidants and anti-inflammatory components. These characteristics provide glow and luster to the skin. Turmeric also revives your skin by bringing out its natural glow. Healthy on the inside, glowing on the outside! The power of turmeric mixed with the natural bleaching power of lime juice will make for an effective skin lightner. And by lightener, I DO NOT mean fairer skin. It helps in the reduction of hyper-pigmentation and dark spots thus giving you skin an even tone. Pigmentation and spots can make your skin patchy and uneven.
Mix one teaspoon of turmeric powder with three tablespoons of lime juice to form a thick paste. Apply evenly to the face or desired area. Wash it off after 15 minutes with cold water. 
It may help with acne scarring
You may want to try a turmeric face mask to help reduce acne and any resulting scars. The anti-inflammatory qualities can target your pores and calm the skin. Turmeric is also known to reduce scarring. This combination of uses may help your face clear up from acne breakouts.
Mix a tablespoon each of yogurt and honey with a teaspoon of turmeric powder together and apply to your face. Keep the mask on for 15-20 minutes or until it dries off and then wash with cold water.

Turmeric and milk have great healing properties that can help treat acne prone skin. Add 1 teaspoon of turmeric, 3 tablespoons of milk, 2 tablespoons of chickpea flour and a few drops of honey. Mix well, and apply a thin layer of this mixture on your face. Allow it to dry for 20 minutes. You can then scrub the mask off in the shower and apply your favorite moisturizer therafter. This mask also acts as an excellent exfoliator.
It may help with a range of other dermatological conditions
The antioxidants in turmeric play a vital role in enhancing skin health. The spice aids in the treatment of even psoriasis. It can also cure stretch marks and other skin scars left by old injuries. However, it is suggested that it can help with eczema, alopecia, lichen planus, and other skin issues. But these require medical attention from a certified medical practitioner.
DIY Turmeric Oil:
Use the below recipe for making your own turmeric infused oil which can be used for curing various skin problems like acne, scarring, spot treatment, skin rashes, redness etc.
Grate a 2 inches long turmeric root into a saucepan. Add 5-6 tablespoons of extra virgin coconut/olive oil to the turmeric. Let this mixture cook on a low flame for 10-12 minutes until it comes to a boil. Once cooled, strain and store this oil in a dark bottle for further use.
POTENTIAL RISKS:-
There are risks of using turmeric. When using turmeric, you need to be careful about the dosage, the type of product you use, and how it might react to other medications you are already taking.
Turmeric has a low bioavailability. This means that your metabolism burns it off quickly and your body doesn't absorb much. Avoid taking too much turmeric at one time and wait to see how your body reacts before taking more. If you take other medications, discuss the use of turmeric with your doctor.
When applied to the skin, turmeric can temporarily stain the skin or leave a yellow residue. This is normal. But if you are allergic, direct skin contact can cause irritation, redness, and swelling. Test turmeric on your forearm, applying a dime-sized amount and waiting 24 to 48 hours to see if you react before using on your face. Do not use turmeric on your skin if you are allergic to the spice in food.
Thanks for dropping by..
xoxo
Manisha